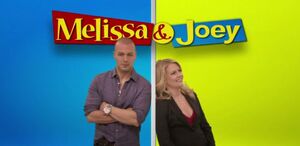 Melissa & Joey is an ABC Family network television series starring Melissa Joan Hart and Joey Lawrence. In January, ABC Family ordered 10 episodes which premiered on August 17, 2010. ABC ordered an additional 20 episodes, making the first season have a total of 30 episodes. It was later renewed for a 15-episode second season, which premiered on May 30, 2012, and ended in August 2012.
It is currently airing its 35-episode (first 15 in 2013 and the last 20 in 2014) third season. There will a "part two" of season three airing sometime in 2014 with a fourth season consisting of 20-episodes with an unknown premiere date.
There have been some incorrect announcements made. It was announced that Taylor Spreitler would drop down to a recurring role beginning in Season 3, premiere on May 29th, 2013, and concluding in September 4, 2013. However, Spreitler has appeared in all episodes so far in Season Three (as of August 14th episode) and in a regular capacity. Joan Hart has announced that Mel's young sister Tami would be added as a series regular, along with Joey's older, cocky brother, Mark, though both haven't been introduced as of the 13th episode of season 3.  This series marks the second time Hart and Lawrence co-starred together in an ABC Family production, their first was the 2009 original film My Fake Fiance.
Series Overview
Edit
Season
Episodes
Season Premiere
Season Finale
1
30
12
August 17, 2010
October 26, 2010
18
June 29, 2011
September 14, 2011
2
15
May 30, 2012
August 29, 2012
3
35

15

20

May 29, 2013

2014

September 4, 2013

4
20
TBD
TBD
Mel is a local politician from a political family. When a family scandal leaves her niece, Lennox, and nephew, Ryder, without their parents, Mel takes them in. Meanwhile, Joe is a former commodities trader--left bankrupt after a Ponzi scheme--who is searching for a job. So when Mel finds it hard to handle an instant family and her own life, she hires Joe to become the family's new male nanny, or "manny".
List of Melissa & Joey episodes
External links
Edit